PITS Global Data Recovery Services
Data Recovery from SAN Systems
PITS Global Data Recovery Services
PITS Global Data Recovery offers recovery solutions for SAN systems. Our engineers deal with Storage Area Networks running on various protocols such as Fibre Channel Protocol, iSCSI, iSER, SRP, FCoE, etc. With years of experience, we became known as a reliable data recovery company and gained the trust of the clients. By working in ISO Certified Class 10 Cleanroom, our data recovery specialists ensure the safety of every device.
99% Success Rate for SAN Recovery
Storage Area Network (SAN) is a set for consolidating the disk space of servers on specially dedicated disk storage. The bottom line is that this way, disk resources are used more economically, are easily managed, and have greater performance.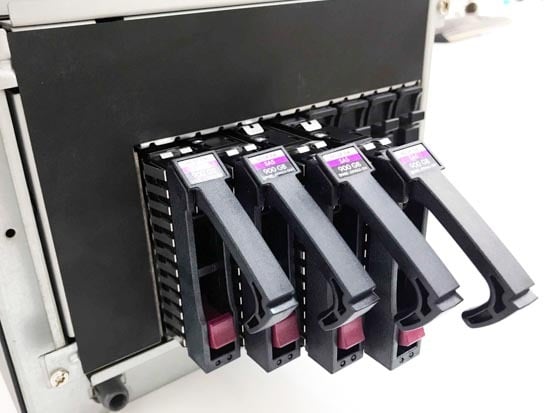 There is virtualization and clustering. When the server needs access to one disk space, such data storage systems are generally indispensable. Technologically, SAN consists of the components: nodes, network infrastructures, switches, routers in complex and distributed networks.
For SANs, the key parameters are not only performance, but also reliability. After all, if the database server loses its network for a couple of seconds (or even minutes) – it can lead to downtime and decrease the general performance of the company. 
And if the hard disk with the base or with the OS falls off at the same time, the effect will be much more serious. Therefore, all SAN components are usually duplicated – ports in storage devices and servers, switches, links between switches and, a key feature of SAN, compared to LAN – duplication at the level of the entire infrastructure of network devices – factories.
99% Success Rate for SAN Recovery
PITS Global Data Recovery Services' highly trained engineers recover SAN systems with various failure reasons. Our specialists are frequently attending qualification courses and getting relevant certifications. It is very vital to get qualified repeatedly as modern technologies advance, and the failures get more complex to deal with.
Call our dedicated customer services at (888) 611-0737 to receive our professional help with any data storage network systems.