In the realm of data recovery, the path to success is paved with precision, expertise, and the meticulous application of cutting-edge techniques. This extensive case study offers an intricate and comprehensive view of a complex enterprise-level data recovery operation carried out by PITS Global Data Recovery Services. It underscores our unwavering commitment to restoring irreplaceable data for a prominent corporate client.
Our client, a globally recognized corporation, operates within the highly competitive technology sector. This industry giant, with its operations spread across multiple continents, is known for its innovative solutions and cutting-edge products. The corporation relies heavily on an extensive array of data, which includes but is not limited to, proprietary research, intellectual property, customer databases, and internal communications.
The corporation's primary data center, located in its headquarters, suffered a catastrophic hardware failure. This resulted in the loss of critical data that was not backed up due to an oversight in their disaster recovery plan. The initial diagnosis indicated significant damage to the storage drive holding the company's most recent and crucial data backup.
To make matters worse, attempts by the corporation's in-house IT team to recover the data proved futile. The stakes were high and time was of the essence as any delay in recovering the lost data could have catastrophic consequences for the corporation.
1. Evaluation of the Device
Upon arrival at the client's facility, our data recovery specialists initiated a painstaking and comprehensive evaluation of the malfunctioning storage array. The scrutinized device was identified as a Dell PowerEdge R740 server configured with a RAID-5 array. This formidable storage unit contained a staggering 48 terabytes of invaluable data.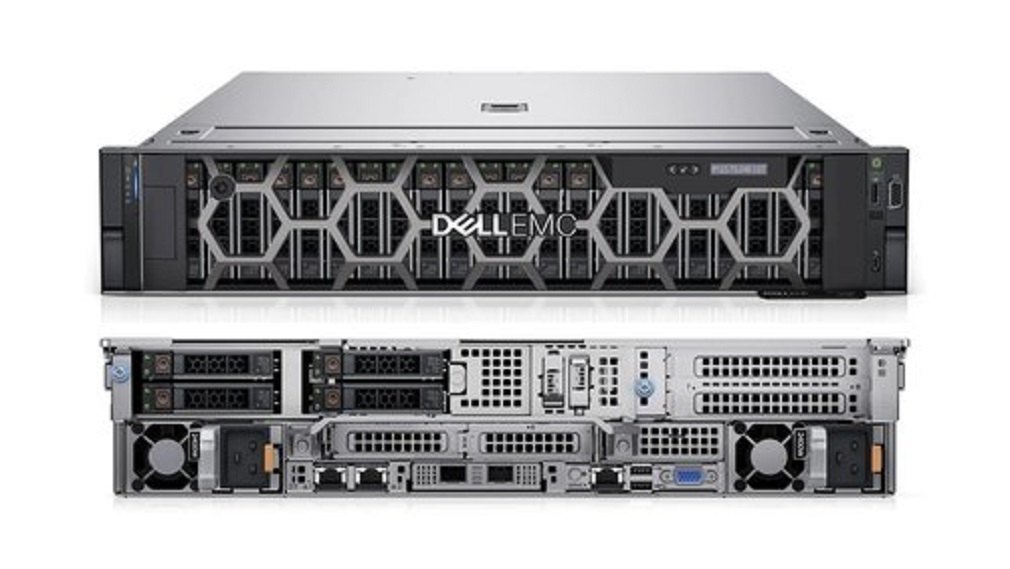 This specific device is known for its reliability in enterprise environments, making the data loss incident all the more critical. 
The RAID-5 configuration, which provides a balance between data protection and storage capacity, presented both opportunities and challenges in the data recovery process.
The sheer volume of data, combined with the RAID configuration, necessitated a highly tailored approach to ensure successful recovery.
The model, RAID level, and data capacity were meticulously documented, setting the stage for our team's meticulously detailed data recovery strategy.
2. Understanding the Problem
The key issue was traced back to multiple drive failures within the RAID-5 array. Typically, RAID-5 can withstand a single drive failure and still function, but the simultaneous failure of two drives led to the collapse of the array and subsequent data loss. A meticulous analysis of the failed drives revealed that the primary cause of failure was firmware corruption. The corruption had rendered the drives unreadable, and the in-built redundancy of RAID-5 could not compensate for the simultaneous failure of multiple drives.
Additionally, there was evidence of physical damage to the read/write heads of one of the drives, which further complicated the data recovery process. This complex problem required not only a high level of expertise in data recovery but also an intricate understanding of RAID configurations and firmware structures.
3. Data Recovery Strategy
The backbone of our recovery operation was an elaborate, custom-tailored recovery strategy meticulously designed by our team of skilled experts. The strategy combined cutting-edge hardware, specialized software, and the utilization of our proprietary tools.  Our team utilized multiple imaging techniques to recreate the logical structure of the failed RAID-5 array, allowing us to access and recover the data.
In addition to utilizing our state-of-the-art equipment, we also employed a combination of industry-standard and proprietary software tools for file carving and data reconstruction. The use of these tools enabled us to overcome the challenges presented by both firmware corruption and physical damage to the drive heads.
4. Data Recovery and Reconstruction
The first course of action encompassed stabilizing the failed drives. This involved replacing the damaged read/write heads of the physically compromised drive within a contamination-free environment of our Class 10 cleanroom. The firmware corruption was countered using our proprietary tools, developed in-house, and designed specifically to resolve firmware issues and make the drive accessible again.
Following the stabilization of the drives, the next step was to create sector-by-sector clones. This critical step in the recovery process involved creating a bit-by-bit copy of the source drive to another drive. This approach ensured the preservation of the original data and allowed our specialists to work on the clone, thereby eliminating the risk of additional damage to the original drive.
Once the clones were created, our team engaged in the reconstruction of the RAID-5 array. The deciphering of RAID parity was a delicate task requiring a deep understanding of RAID structures. Due to the meticulous documentation of the RAID configuration and the successful cloning process, we successfully achieved the RAID reconstruction.
The final stage involved extracting the data from the reconstructed RAID array. This step, though seemingly simple, demanded a methodical approach to ensure the integrity of the recovered data. Our team used specialized data carving techniques and proprietary recovery algorithms to recover the data in its original format while maintaining its integrity and confidentiality.
Through this comprehensive and methodical recovery strategy, our team was able to recover the critical data, demonstrating our command over intricate data recovery operations. Our commitment to precision and keen attention to detail were pivotal in restoring valuable data for our client, thus mitigating the potentially disastrous impact of data loss.
5. Verification Session for the Client
Upon the successful recovery of the data, PITS meticulously arranged a comprehensive verification session with the client. This was not a mere formality but a crucial step to ensure data accuracy and completeness. 
The session involved a stringent cross-referencing process where every piece of recovered data was meticulously compared against the client's existing records.
Each file, from the smallest document to the largest database, underwent multiple rounds of verification. The hashes of recovered files were compared to those of the original files, and a meticulous inventory was created to account for every piece of data. This reinforced our commitment to transparency and precision.
6. Data Transfer and Return
With the data's integrity confirmed, PITS ensured the secure transfer of the recovered data to the client's designated storage infrastructure. This process was far from ordinary – an intricate ballet of data security. Stringent data encryption protocols were employed to protect the data during the transfer.
The recovered data was returned to the client in a structured and easily accessible format, a meticulously structured data hierarchy mirroring their original storage configuration. This attention to detail ensured minimal operational downtime during the recovery process.
In this intricate enterprise-level data recovery scenario, PITS Global Data Recovery Services not only rescued critical data but also safeguarded the client from potentially crippling operational and financial crises. Our approach combines technical expertise, cutting-edge tools, and an unwavering commitment to meticulous processes.
The recovery process extended beyond technical know-how; it was a testament to our dedication to data recovery excellence. Our specialists went to great lengths to document every step, every byte, and every fragment of data to ensure that nothing was left to chance.
Results of the Recovery Case
This comprehensive case study, meticulously examining every aspect, further exemplifies PITS Global Data Recovery Services' unwavering dedication to recovering mission-critical data even in the most demanding and challenging scenarios. With years of experience and a team of highly skilled professionals, we have successfully restored vital data for numerous esteemed enterprise-level clients across various industries.
Our state-of-the-art technology and unparalleled expertise allow us to tackle complex data recovery challenges with precision and efficiency. Whether it's a hardware failure, accidental deletion, or a catastrophic event, our team is equipped to handle it all. We understand the importance of data integrity and work tirelessly to ensure the highest level of restoration.
At PITS Global Data Recovery Services, we take pride in our exceptional track record, consistently delivering outstanding results. We prioritize the confidentiality and security of our client's data, providing them with peace of mind and confidence in our services. Trust us to be your reliable partner in data recovery, and let us help you overcome any data loss situation with our unmatched expertise and dedication.
PITS Global Data Recovery Services
This company is rated 4.9 out of 5.0 based on 267 review(s)
Emily Johnson
May 2, 2021
I thought I had lost all of my important data when my hard drive failed, but PITS came to the rescue! Their team of experts was able to recover all of my data quickly and efficiently. The whole
...
process was smooth and professional, from the initial consultation to the final delivery of the recovered data. The team kept me informed throughout the entire process, and their customer service was excellent. I am so grateful for their exceptional service and highly recommend them to anyone in need of data recovery.
(Read More)
William Davis
November 18, 2021
I am very satisfied with the services the PITS team provided me with. Their professionalism and attention to detail were evident throughout the entire process. Thanks to their outstanding work, most
...
of my high-value files were recovered from my Seagate hard disk drive. Amazing team! Strongly recommend their Seagate hard drive recovery service.
(Read More)
Grace Lee
January 7, 2022
I can confidently say that PITS Global Data Recovery Services is simply the best! Their RAID data recovery services were able to recover all of my lost data from a failed system. Their team of experts
...
is knowledgeable and professional, and they kept me informed throughout the entire process. They explained every step of the recovery process in detail, and I felt reassured that my data was in good hands. The final result was beyond my expectations, and I am extremely satisfied with their service. I would definitely use their services again in the future.
(Read More)
Benjamin Wright
April 23, 2022
I had a hard drive crash and lost all of my important data. I reached out to PITS Global Data Recovery Services, and they were able to recover everything! Their hard drive data recovery services are
...
exceptional, and their team of experts is highly skilled and knowledgeable. They took the time to explain the issue with my hard drive and provided me with a detailed plan of action for the recovery process. Their customer service was also top-notch, and they kept me informed every step of the way. I would highly recommend their services to anyone in need of hard drive data recovery.
(Read More)
Ethan Jackson
August 17, 2022
My external hard drive failed with all of my projects stored inside. With no backup, I was hopeless. However, PITS Global Data Recovery Services was able to recover everything in a timely and
...
professional manner. Their team of experts is highly trained and knowledgeable, and their customer service is informative and polite. I would highly recommend their external HDD recovery services to anyone in need of professional data recovery.
(Read More)
PITS Global did everything they said they would. As well, they communicated with me every step of the way. This made me feel more and more comfortable about sending my Hard Drive off to a company I
...
had never heard of. This was a great experience and PITS earned my trust. I highly recommend them for the recovery of data from virtually any type of storage device.
(Read More)
"*" indicates required fields